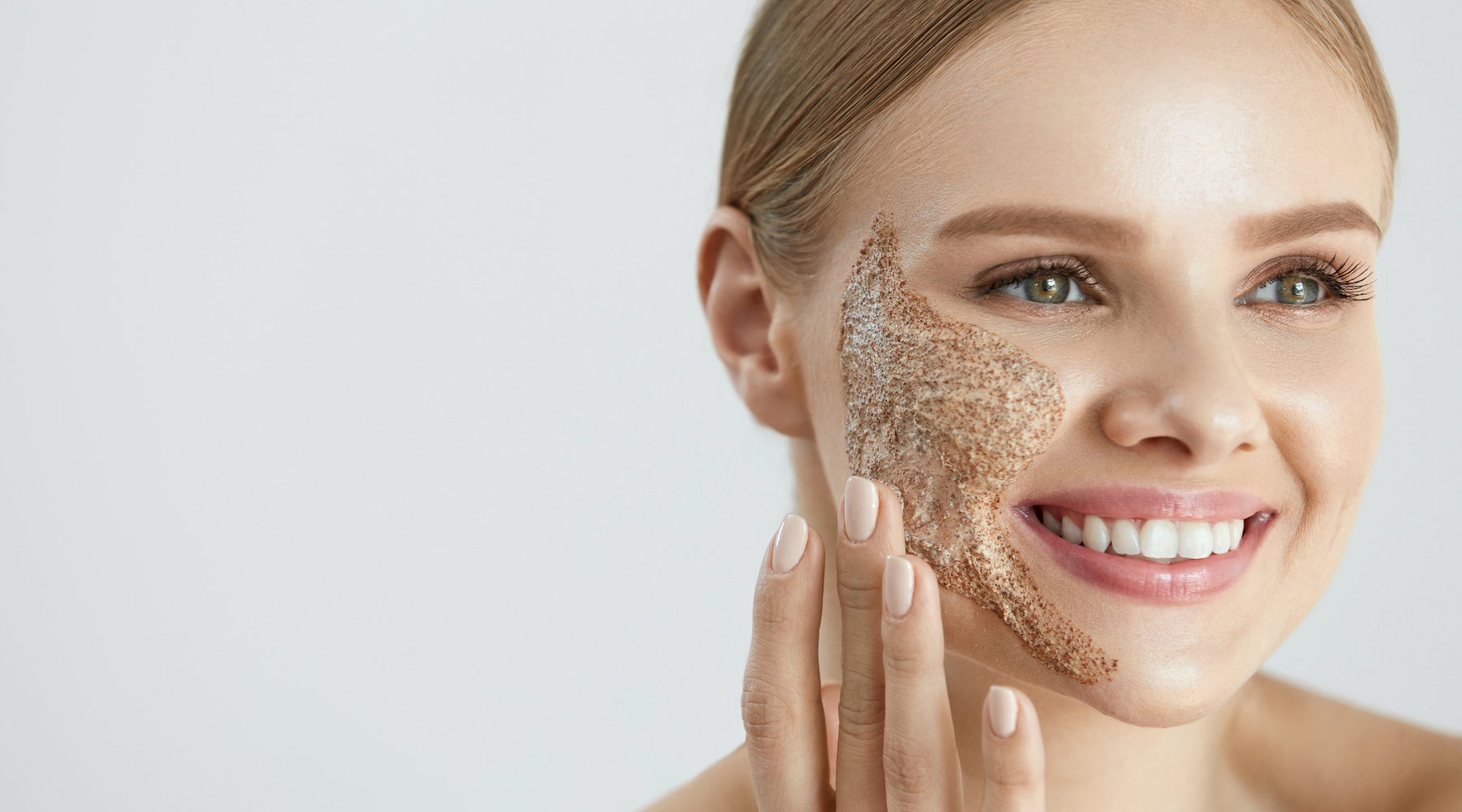 ✓ Our weekly choice for ✨🧏 PHYSICAL EXFOLIATING PRODUCTS ✨🧏‍♀️
Hello Bonit@s!
For today entry we bring several product recommendations if you feel that your skin is a little rough and looks dull. We are talking about physical exfoliants!
Maybe not many have used them, because maybe they don't need them, they don't know how to include them in their routine or for some bad experience.
At the beginning I also had a bad experience, but it was because I didn't know how to use them. As you may know, my skin is sensitive, but it has one or two dry spots that make my skin feeling rough. At first, not knowing how to use an exfoliant, I either used it every day, used a lot of it, or scrubbed my face a lot. Consequently, as you may have already deduced, I injured my face, wearing down the layer of my skin and causing irritation. So, you should be careful, because not only will your face be red and irritated, but it will accelerate the aging of your skin.
The correct way to use these exfoliants/scrubs will vary according to your skin type and the conditions in your environment. If your skin is normal, combination or oily, you can use the scrubs 2 times a week. In case your skin is sensitive or dry, I recommend using it once a week maximum or 2 times a month, depending on how much your skin can take. If you think you can only do one week and not another, that's fine! You more than anyone know your skin!
Moving on to product recommendations, I bring you 7 options!
1. Heimish. All Clean Pink Clay Purifying Wash-Off Mask:
clay is a friend for all those who have clogged pores! Something that many who have oily skin suffer. This option is excellent for them, but it is also delicate for all skin types. You will not feel that it leaves your skin dehydrated and it is a good option that will gradually clean your pores.
2. Neogen Dermalogy.  Wine Lift PHA Gauze Peeling: One of my favourites! It lasts a long time and I love how soft my skin feels after using it. As a plus, the essence in which they are soaked has a pleasant smell of wine and is an antioxidant. It's tricky since you control the force of passing the pad. Is a physical and chemical exfoliant. Recommended for all skin types.
3. Skinfood. Rice Mask Wash Off: This product is a k-beauty classic! With rice as an ingredient, it has nutritional and lighting properties for your skin. The grainy texture can be a bit irritating for sensitive skin, so I recommend it for all skin types except this one.
4. Some by Mi. Yuja Niacin Brightening Peeling Gel Cream: I know the word peeling can be a bit scary, but this peeling gel is gentle on your skin. It's not for me since the citrusy fragrance of yuja doesn't really like my sensitive skin, but if you overlook this, it will gradually clean away some acne marks with its brightening properties!
5. Neogen Dermalogy. Real Polish White Rice & Sugar: Another scrub type exfoliant with rice as an ingredient, but as a plus it has white sugar! It will remove dead cells from your skin, give it light and minimize pigmentation marks. You will see changes from the first use. I recommend it for all skin types, even sensitive.
6. Neogen Dermalogy. Real Polish Honey & Sugar: With propolis included, it won't leave your skin dehydrated. Like the other scrubs, you will feel the effects when rinsing. For all skin types.
6. Neogen Dermalogy. Green Tea Moist PHA Gauze Peeling: Like the wine pad, this scrub is both chemical and physical. It has green tea essence, so it has antioxidant properties that help minimize the signs of aging. You will feel your skin soft. For all skin types. 
Keep in mind not to over exfoliate your skin. You will remove the natural oils from the skin, leaving it dehydrated and fragile to the factors that cause aging. If you exfoliate and your skin still feels rough, then you need a stronger moisturizer as the next step in your routine.
Add one of these products to your routine and you will see your pores cleaner, your skin hydrated and bright. It will remove dead cells from your skin and prepare it to receive the other products of your routine that need absorption.
Also, always remember that you have the last word, since all skins are different and react differently. 
Choose your favorite!!
Lady Bonita Team