Discover the Latest Trendy Korean Cosmetics Brands
Our Selection of Popular Brands and Best Sellers
COSRX, BEAUTY OF JOSEON AND MORE
Don't Miss Out on This Must-Have Product!
Our #1 Best Seller this month
Order yours today and see why it's our best seller!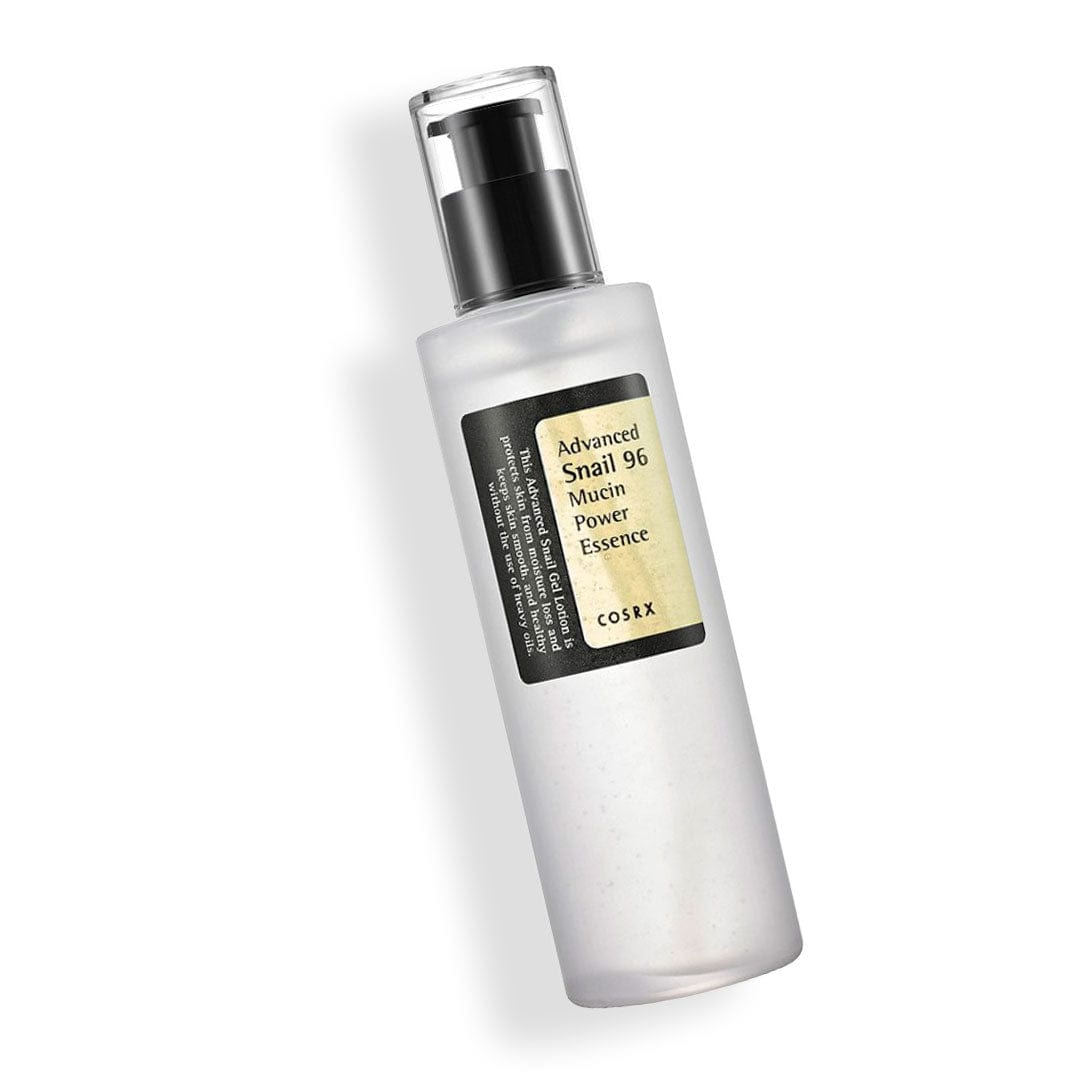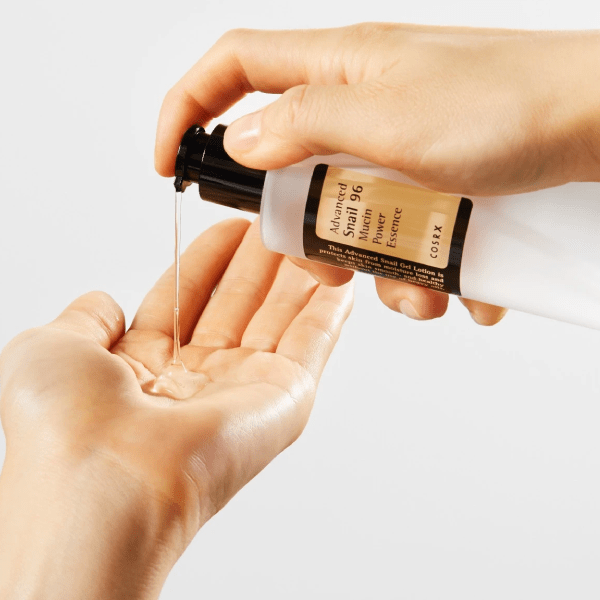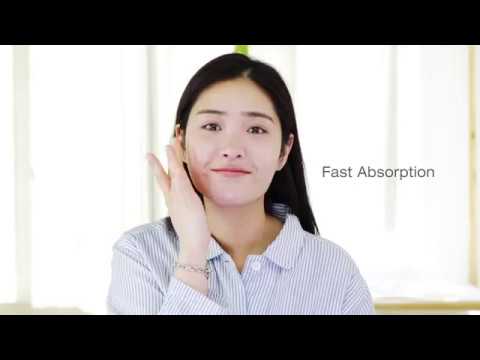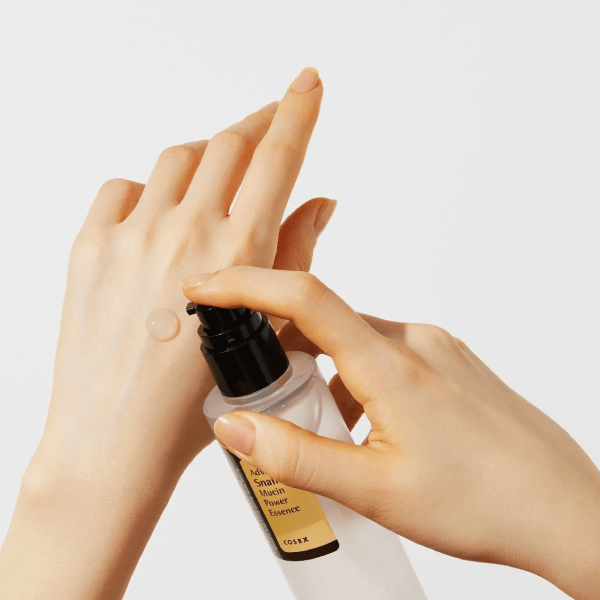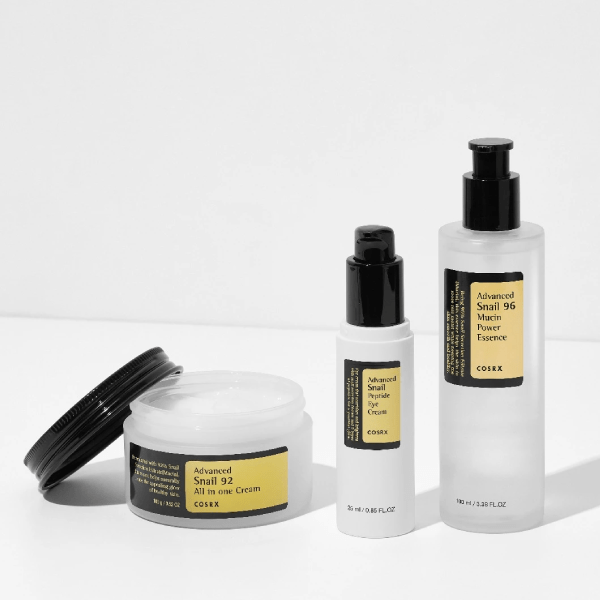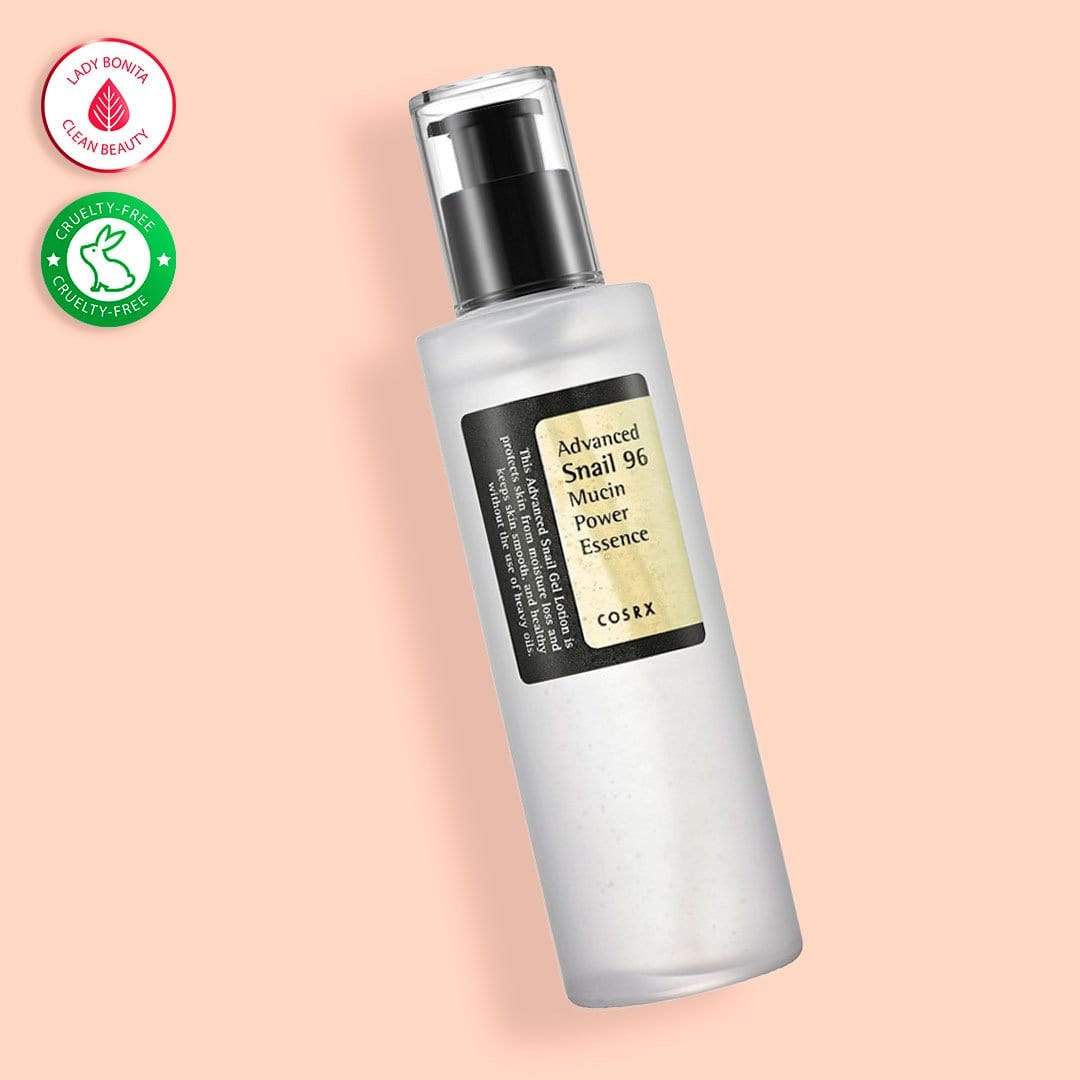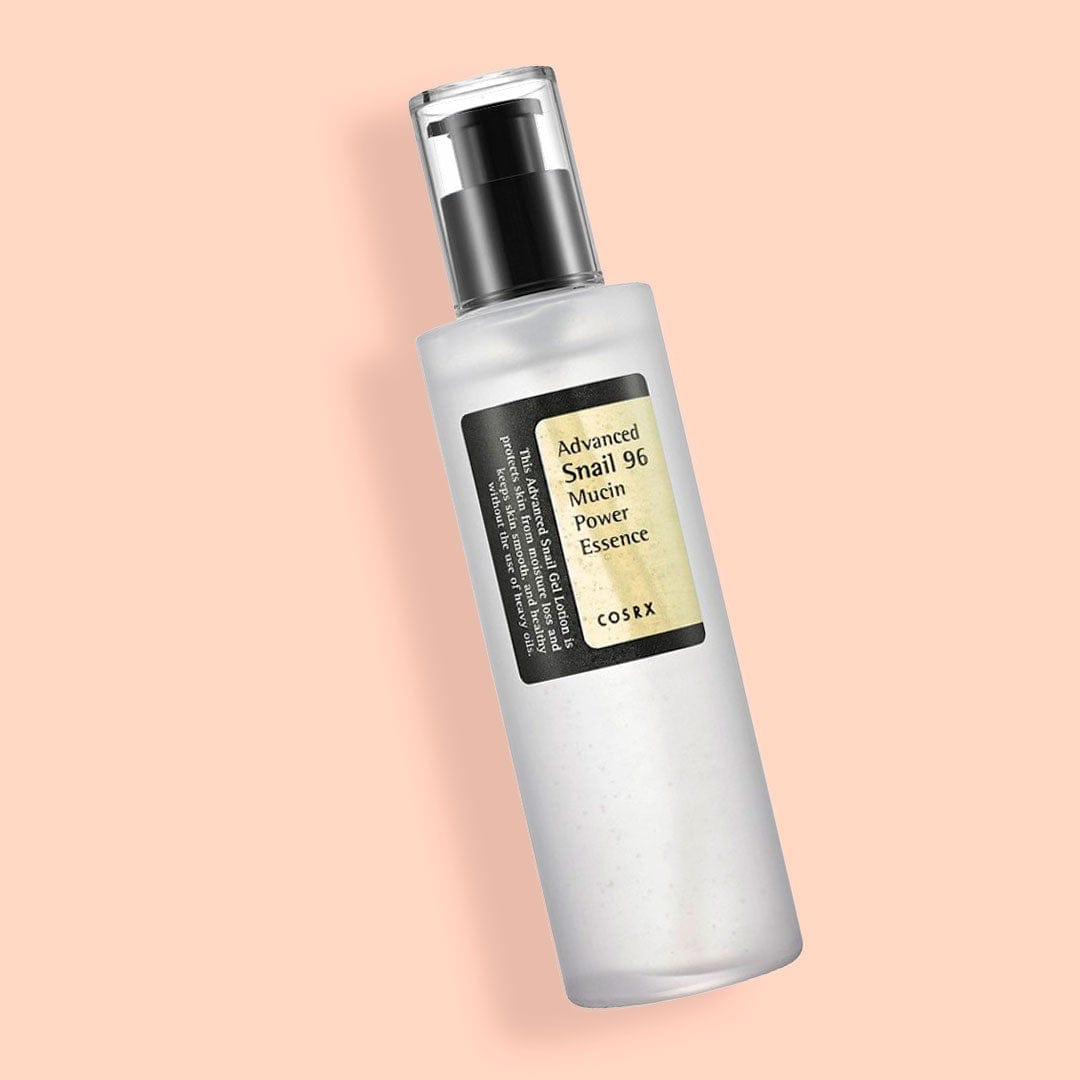 ---
The Advanced Snail 96 Mucin Power Essence: Revitalize for healthy-looking skin.

This essence is your best weapon to fight the passing of time and the typical skin problems we sometimes get, but what is Mucin? I'm glad you ask.

Mucin is Snail Secretion Filtrate, and this product has an astonishing amount of it, 96% to be exact; the properties of the snail secretion filtrate are widely known, and it has been used as a beauty secret since the beginning of time. The capacity of this essence to protect the skin is enormous. If you use it as part of your daily skin routine, you will see how the texture changes and your skin gets smooth and overall healthy. You'll have glowing skin that will steal all the looks around you.

The texture of the snail secretion filtrate (Mucin) is soft and treated so that you can apply it as a gentle, fresh essence. Get ready to change your skin game with this incredible product and say yes to lovely young-looking skin that will make you not want to stop looking at the mirror!

VOLUME

100ML / 3.38 FL.OZ

HOW TO USE

After cleansing and toning, apply a small amount to your entire face. Gently pat using fingertips to aid absorption, then go forth with moisturizers.

KEY INGREDIENTS

Snail Secretion Filtrate 96%
Achieve your Skincare goals with the Power of Key Skincare Ingredients.
POPULAR INGREDIENTS
Unlock the Secrets of Effective Cosmetics Ingredients.
Kindness Begins With Beauty: A collection of cruelty-free and vegan products.
ORDER YOUR GIFT CARD TODAY
🎁 The Gift of Choice 🎁
Give the Gift of Beautiful Skin: A gift card to our skincare store is the perfect way to show someone you care.
SPECIAL COLLECTION
Trendy ingredients 🔬
Experience the Power of Birch Tree Extracts for Your Skin.
Let customers speak for us
Sweet as Home (Pumpkin Chai)
This is an outstanding candle and I will certainly be buying another. An exceptional price. You will love it.
Sweet as Home It's the Great Pumpkin (Pumpkin Chai) Soy Wax Scented Candle
Amazing Result
This product is truely amazing. I had incredible results from the very first application. My fine lines smoothed out, some went completely. I use it everyday, sometimes twice. I have sensitive skin, it is so soothing. I love it.
Cosrx. Hydrium Centella Aqua Soothing Ampoule
Cosrx. Advanced Snail 96 Mucin Power Essence
Cosrx. Advanced Snail 96 Mucin Power Essence
Hydrating
I love cosrx snail mucin because it hydrates your skin well. Great for my combo skin. Very light, non comedogenic, non greasy.
Cosrx. Advanced Snail 96 Mucin Power Essence
Great
I have a combination skin. This sunscreen is very good as it doesn't have a greasy or shiny feeling on skin. Only downside is it finishes so quickly.
Beauty of Joseon. Relief Sun: Rice + Probiotics SPF50+ PA++++ Broad Spectrum
Torriden solid in ceramide essence serum
This is the best skincare product I have ever used. It's called an essence but it's more like a serum, but when you apply it, it melts into the skin effortlessly. It has a beautiful texture and leaves your skin feeling hydrated, smooth and supple and calm. I use with the ceramide cream from the same line and together my skin has never felt or looked so good. I rinse my face in the morning and my skin is still moisturised and feels dewy and plump. The ingredients are very good. Cholesterol, lipids, ceramide, panthanol, and high up on the ingredients list. Ceramides are important for your skin barrier and using ceramides actually helps your skin to make its own ceramides. I've used a lot of products and have found so many good ones too, but after using the torriden line, I could honestly get rid of most of them and just use these forever. I can't say enough good things about this essence and the cream that goes with it. They're rich but not greasy and most people should be able to use them. They sink in beautifully and just leave healthy happy skin. I've also had no more irritation from my Retinal or acids either since using these products. I definitely recommend. And will repurchase for ever. 😊💚
Torriden. Solid-In All Day Essence
Truecica snail cleanser
Have tried a few over the decades, but this is now my go-to.
Some By Mi. Snail Truecica Miracle Repair Low ph Gel Cleanser 100ml
RNW der ceramide plus serum
This serum is very nice. It has a lovely silky formula . It is full of great ingredients. It sinks into the skin well and leaves it feeling healthy and hydrated. I use my Retinal and moisturiser over it. It has ingredients for restoring the skin barrier and keeping the skin healthy and glowing. Ceramides are so important for the skin health. I have really enjoyed using this serum in my routine and my skin is glowing. It feels healthy. My skin looks so clear and even, I was asked if I had foundation on at the hair salon, and I didn't. I definitely recommend this serum. No scent and cruelty free. Definitely a keeper, I will continue to repurchase this serum. It's really really good. 😍. Thank you Lady Bonita for getting these awesome products in stock.
RNW. Der. Concentrate Ceramide Plus
Solid in ceramide cream
I'd seen many great reviews for the Torriden ceramide line, . So I was super excited to try for myself and this cream did not disappoint. It has fantastic ingredients, very protective and nourishing, hydrating. . Great for your skin barrier. It comes out slightly thick looking but it melts into the skin beautifully. Leaves the skin feeling soft, hydrated, healthy . But it sinks in well, doesn't sit on the surface or leave a film. A little goes a long way too. I can't wait to try more from this line. I have normal skin but can sometimes be dry, sometimes oily t zone and this works great for my skin. I love it and will continue to repurchase. Plus it's cruelty free and has no scent. Edit. I've been using this for a few weeks now and wow! My skin has never been so healthy. I use this as the last step at night and my skin is so hydrated, looks incredible, and in the morning, after I rinse my face etc, my skin is just glowing and feels amazing . I'm no longer getting irritated skin from my retinoids and acids like I used to get sometimes. I have always had pretty good skin but after using this and the serum to match, it's better than ever. I think I have found my holy grail moisturiser. Love it!
Torriden. Solid In Ceramide Cream
Fab stuff
Made a huge difference to my skin
Cosrx. One Step Moisture Up Pad
Rice product
Didn't had to wait for that long for my order.
I'm From. Rice Cream
amazing!
Best cotton pads i've ever tried and used!
Pyunkang Yul. 1/3 Cotton Pad
Beauty of Jose on sunblock
Great product good for dry sensitive skin.
Will keep purchasing. Great company to deal with , fantastic service.
Beauty of Joseon. Relief Sun: Rice + Probiotics SPF50+ PA++++ Broad Spectrum
Very light, leaves a radiant skin
It has a very light texture and moistures the skin incredibly. I use it daily.
Cosrx. Hyaluronic Acid Hydra Power Essence
Very hydrating
My skin is prone to redness and dryness due to being on prescription tretinoin however this ampoule itself has made such a change in my skin, it absorbs quickly leaving a natural dewy finish. My skin looks very hydrated and has that 'glass' look. Will deff repurchase.
Cosrx. Full Fit Propolis Light Ampoule