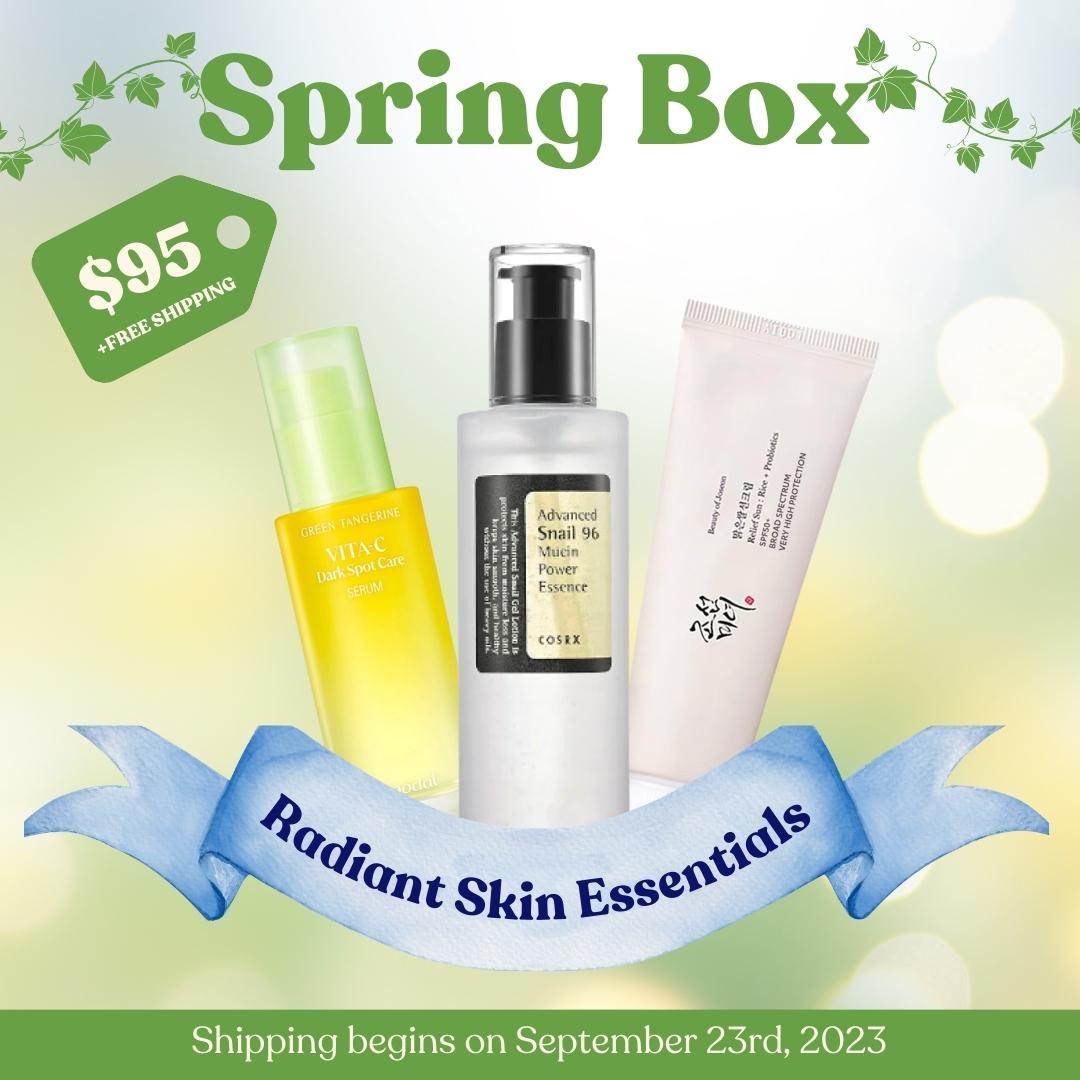 Spring Box: Radiant Skin Essentials
Introducing the Ultimate Spring Box Collection: Radiant Skin Essentials!
As the seasons change, so should your skincare routine, and our carefully curated Spring Box Collection is here to help you transition seamlessly into the blooming beauty of spring. This collection combines three of the most coveted K-beauty products to refresh and rejuvenate your skin, leaving you with a radiant complexion that's ready to embrace the sun's warm embrace. Let's dive into the key products in this fantastic bundle:
Infuse your skin with a burst of radiance using the Goodal Serum Vitamin C. This powerhouse serum is packed with potent vitamin C, a key ingredient known for its brightening and antioxidant properties. As winter's chill fades away, this serum will help fade the appearance of dark spots, even out your skin tone, and leave you with a fresh, youthful glow. It's the perfect addition to your spring skincare routine, helping your skin recover from the harsh cold of winter and prepare for the sunnier days ahead.
Prepare your skin for a season of renewal with the CosRX Snail Mucin Essence. This iconic essence is formulated with 96% snail mucin extract, known for its incredible hydration and skin-repairing abilities. As spring arrives, it's essential to maintain your skin's moisture barrier and repair any damage caused by the winter weather. The snail mucin essence will keep your skin supple, smooth, and resilient, making it the perfect addition to your springtime skincare routine.
As the sun makes its triumphant return, protect your skin with the Beauty of Joseon Sunscreen. This lightweight yet highly effective sunscreen not only shields your skin from harmful UV rays but also nourishes it with ingredients like bamboo water and centella asiatica extract. It's the ultimate multitasker, ensuring your skin stays safe from sun damage while providing a dewy finish that's perfect for spring's sunny days.
The Radiant Skin Essentials Spring Box Collection is your all-in-one solution for a glowing and healthy complexion this season. Say goodbye to the winter blues and hello to vibrant, revitalized skin. Whether you're a skincare enthusiast or just starting your journey, this collection has everything you need to welcome spring with confidence.
Don't miss out on this limited-time offer to elevate your skincare game for the season. Embrace the beauty of spring and discover the transformative power of these Korean skincare favourites. Order your Radiant Skin Essentials Spring Box Collection today and let your skin blossom with radiance!
Important: Ingredients subject to change at manufacturer's discretion. For the most complete and up-to-date list of ingredients, please refer to product packaging.
All packages from Lady Bonita are shipped from Point Chevalier, Auckland, New Zealand.

PROCESS TIME:

Products in stock: We process and ship out all orders Monday through Friday, not including holidays. Orders with standard shipping will usually be fulfilled and shipped the next business day (Monday through Friday, not including holidays).

Pre-orders: We ship them as soon they arrive to our warehouse. Please check the ETA (Estimated Time of Arrival) of each product.

DELIVERY TIME:

Once your order has shipped, you will receive a shipping confirmation email with your tracking information enclosed. Please check your inbox or spam.

Standard Shipping usually takes 1- 5 business days from the day it ships to arrive to its final destination. Delivery outside major towns and cities, including to and from rural or remote areas will take longer.

SHIPPING RATE: For rates, please check Shipping Rates.
Lady Bonita is an authorised retailer. Our products are 100% authentic and sourced directly from brands and authorized distributors.

Our team personally test every product that we curate.
Skincare and Makeup

For a positive experience with our products, follow these friendly reminders:

Read the label carefully, it contains important information, including precautions and a list of ingredients.
Read and follow Instructions on how to apply the product correctly, including the recommended amount and duration of effectiveness.
Patch Test for Your Skin. Unsure if a product is right for you? Conduct a patch test by applying a small amount to a skin area, like the underside of your wrist. If irritation occurs, or a rash develops, please avoid using the product.
Check Expiry Dates. Don't forget to check expiry dates. Some labels indicate how long a product lasts after opening or provide a best-before date.
Store Wisely. Follow the manufacturer's storage recommendations. If the label suggests keeping the product away from children or storing aerosol cans away from heat sources, take note.
Secure Packaging. After use, promptly store products, ensuring lids are tightly closed. Regularly check the packaging for leaks to maintain product integrity.

Your safety and satisfaction are our priorities. If you have any questions, feel free to reach out.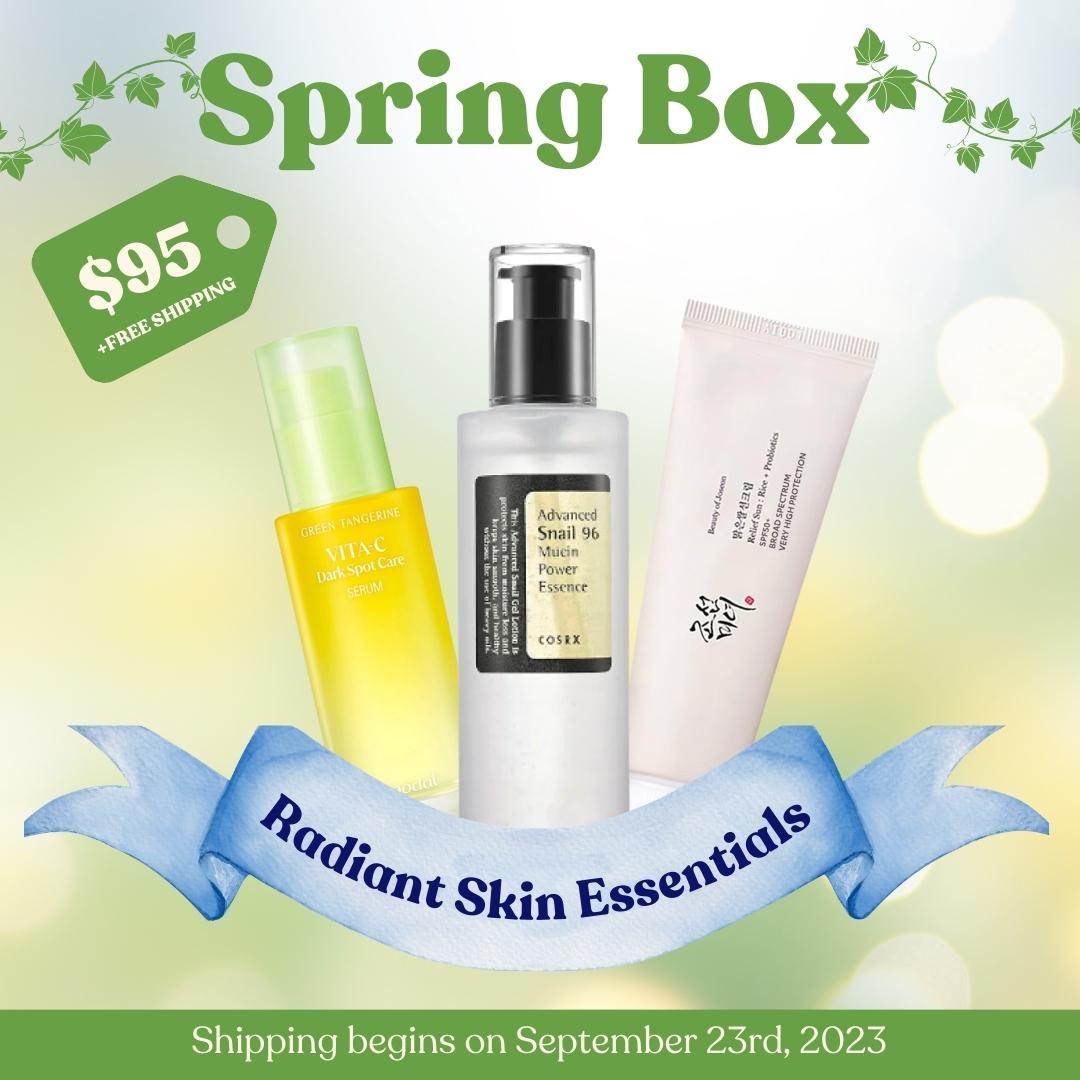 Spring Box: Radiant Skin Essentials
Sale price

$60.00 USD
Regular price
Choose options