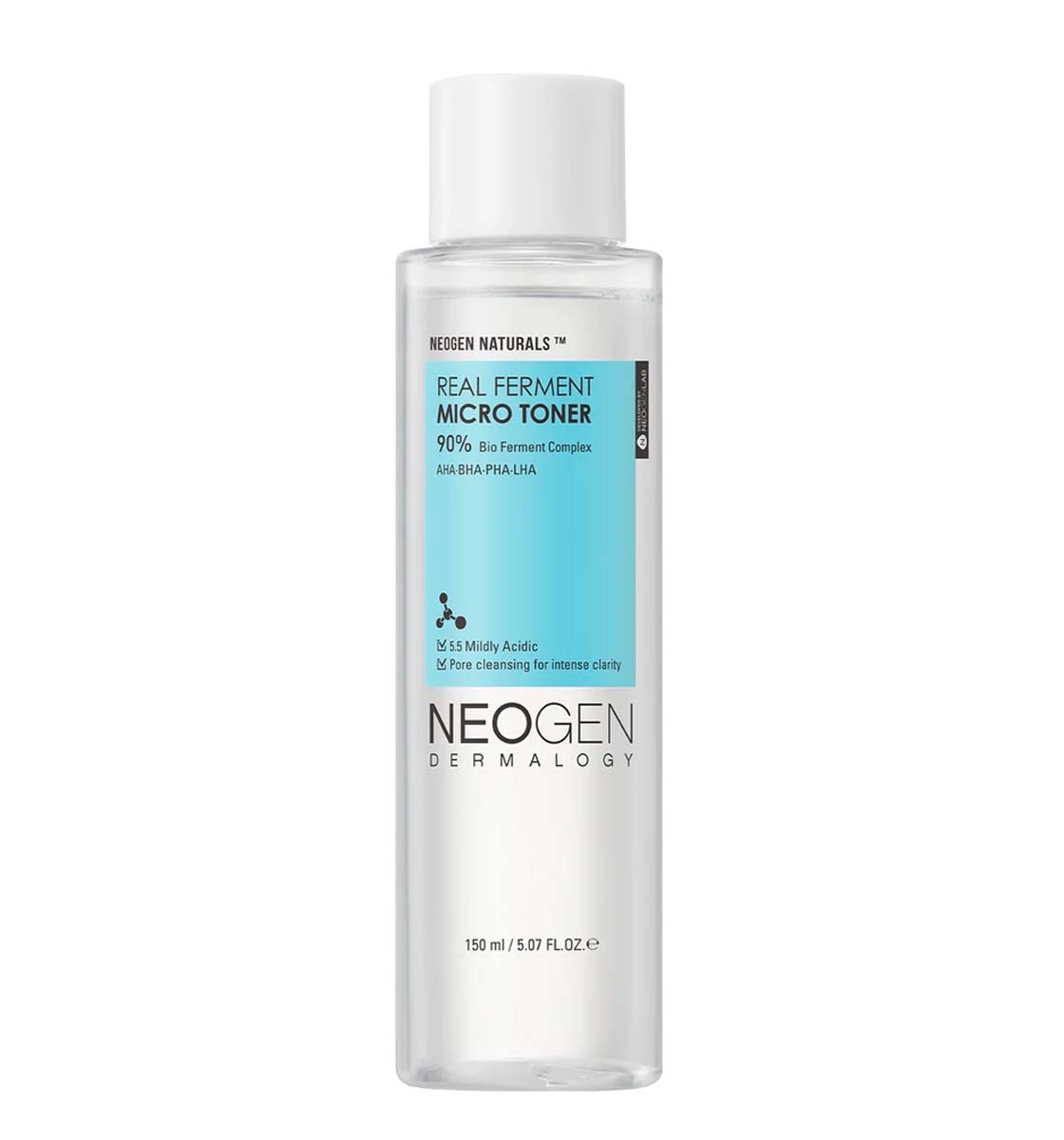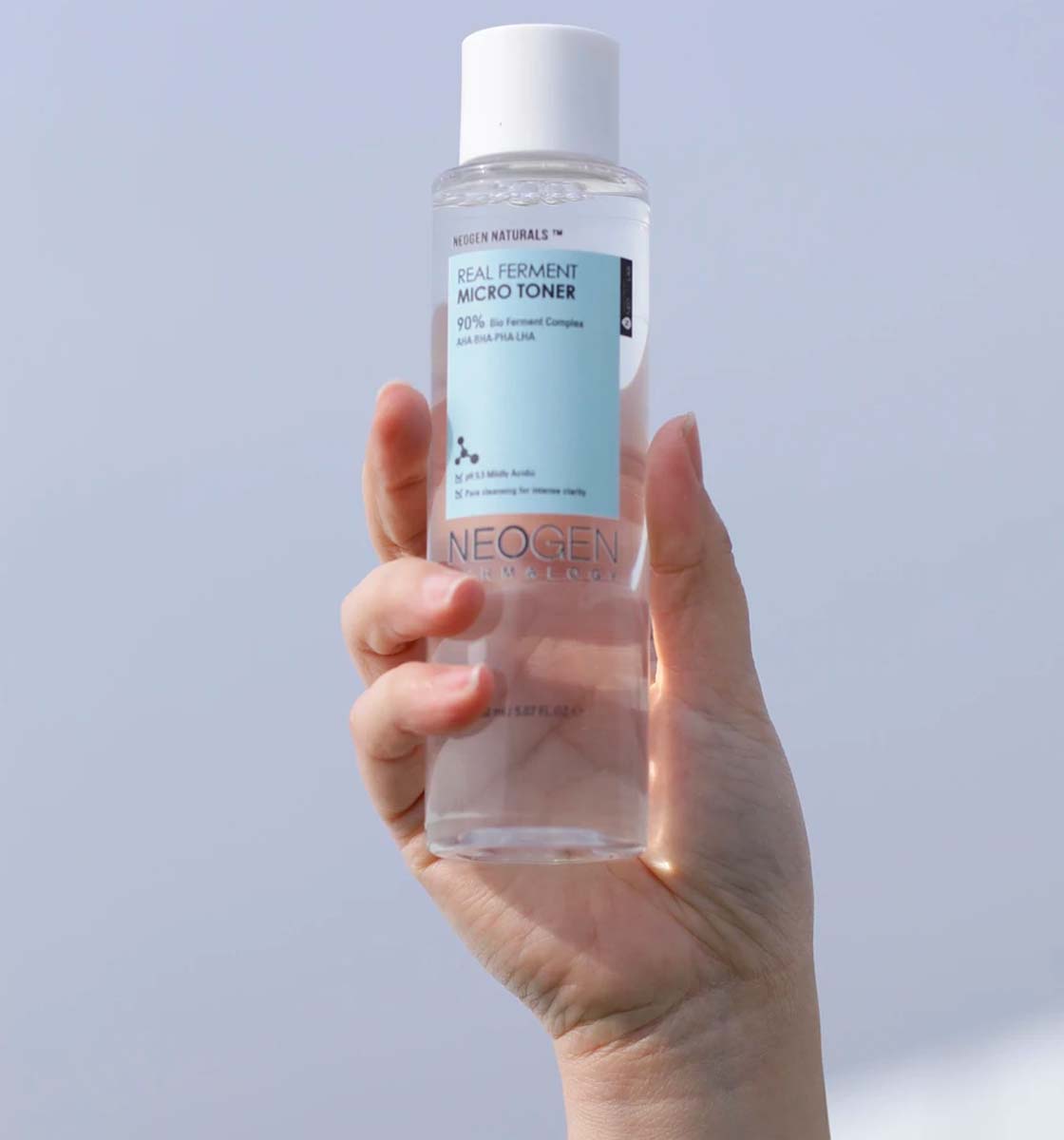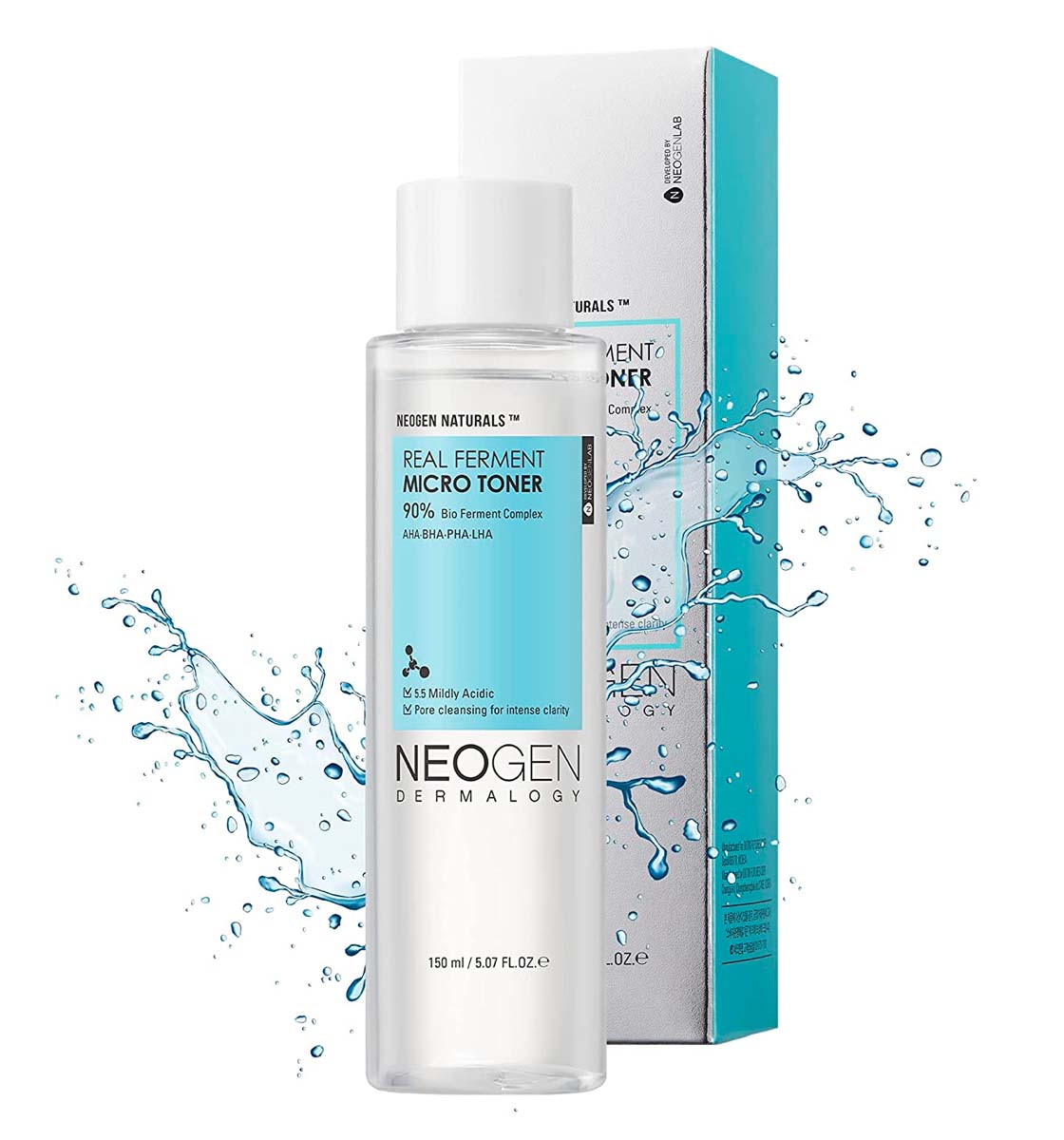 Neogen Dermalogy. Dermalogy Real Ferment Micro Toner
Daily pore care!
A mildly acidic soothing toner formulated with 90% Bio Ferment Complex, known to improve and strengthen the skin barrier, and AHA/BHA/PHA/LHA ingredients effectively proven to cleanse away dead skin cells and pick up pore residue left over after cleansing, leaving your skin moist and illuminated.
The first step is a moisturizing and soothing cleansing toner that contains 90% Bio Ferment Complex that wakes up the natural power of the skin
90% Bio Ferment Complex with natural fermentation and ingredient mimicking human tears fills the skin with moisture and nutrition and strengthens the skin barrier to create healthy balanced skin.
AHA, BHA, PHA, and LHA ingredients thoroughly cleanse away dead skin cells, pore impurities, and makeup residue.
It contains four peeling ingredients to remove unnecessary dead skin cells from the skin surface and thoroughly cleanse the remaining pore impurities and makeup residue after regular cleansing.
It helps prepare the skin for better absorption by calming the skin with triple Hyaluronic acid, Allantoin, and Panthenol.
Deep penetration of triple hyaluronic acid helps skin be fully hydrated after washing your face without feeling dry. Panthenol and Allantoin, which are excellent for calming the skin, will also prep dry skin for the rest of the routine.
VOLUME: 150ml
KEY INGREDIENTS
Bifida Fermented Lysate - Skin barrier strengthening
Yeast Fermentation Lysate - Skin elasticity boost
Birch Juice Extract - Antioxidant
Rice Fermentation Filtrate - Oil and moisture balance
AHA(Alpha Hydroxy Acid) - Exfoliating/even skin tone
BHA(Beta Hydroxy Acid) - Pore care/skin texture
PHA(Poly Hydroxy Acid) - Skin illuminating
LHA(β-Lipohydroxy Acid) - Acne care
Artificial Tear Formula: An artificial tear formula, a 'Biomimetic Fluid' that mimics actual human tears, is quickly absorbed into the skin bringing immediate nourishment and moisturization.
Skin Soothing Ingredients
Allantoin - Soothing hydration
Pantenol - Vitamin B5 derivative, moisture maintenance & barrier protection
HOW TO USE
After washing your face, soak a cotton pad with toner and gently wipe over your face to cleanse away dead skin cells and pore impurities.
Use morning and night.
Important: Ingredients subject to change at manufacturer's discretion. For the most complete and up-to-date list of ingredients, please refer to product packaging.

Bifida Ferment Lysate, Saccharomyces Ferment Filtrate, Betula Alba Juice, Rice Ferment Filtrate (Sake), Water, Aspergilus Ferment, Propanediol, Polyglyceryl-4 Caprate, 1,2-Hexanediol, Glycereth-25 PCA Isostearate, Camellia Sinensis Leaf Extract, Ethylhexylglycerin, Sodium Lactate, Sodium Gluconate, Allantoin, Lactobacillus, Disodium EDTA, Tromethamine, Mentha Piperita (Peppermint) Oil, Gluconolactone, Salicylic Acid, Panthenol, Capryloyl Salicylic Acid, Glycolic Acid, Butylene Glycol, Hyaluronic Acid, Hydrolyzed Hyaluronic Acid, Sodium Hyaluronate.
All packages from Lady Bonita are shipped from Point Chevalier, Auckland, New Zealand.

PROCESS TIME:

Products in stock: We process and ship out all orders Monday through Friday, not including holidays. Orders with standard shipping will usually be fulfilled and shipped the next business day (Monday through Friday, not including holidays).

Pre-orders: We ship them as soon they arrive to our warehouse. Please check the ETA (Estimated Time of Arrival) of each product.

DELIVERY TIME:

Once your order has shipped, you will receive a shipping confirmation email with your tracking information enclosed. Please check your inbox or spam.

Standard Shipping usually takes 1- 5 business days from the day it ships to arrive to its final destination. Delivery outside major towns and cities, including to and from rural or remote areas will take longer.

SHIPPING RATE: For rates, please check Shipping Rates.
Lady Bonita is an authorised retailer. Our products are 100% authentic and sourced directly from brands and authorized distributors.

Our team personally test every product that we curate.
Skincare and Makeup

For a positive experience with our products, follow these friendly reminders:

Read the label carefully, it contains important information, including precautions and a list of ingredients.
Read and follow Instructions on how to apply the product correctly, including the recommended amount and duration of effectiveness.
Patch Test for Your Skin. Unsure if a product is right for you? Conduct a patch test by applying a small amount to a skin area, like the underside of your wrist. If irritation occurs, or a rash develops, please avoid using the product.
Check Expiry Dates. Don't forget to check expiry dates. Some labels indicate how long a product lasts after opening or provide a best-before date.
Store Wisely. Follow the manufacturer's storage recommendations. If the label suggests keeping the product away from children or storing aerosol cans away from heat sources, take note.
Secure Packaging. After use, promptly store products, ensuring lids are tightly closed. Regularly check the packaging for leaks to maintain product integrity.

Your safety and satisfaction are our priorities. If you have any questions, feel free to reach out.
Choose options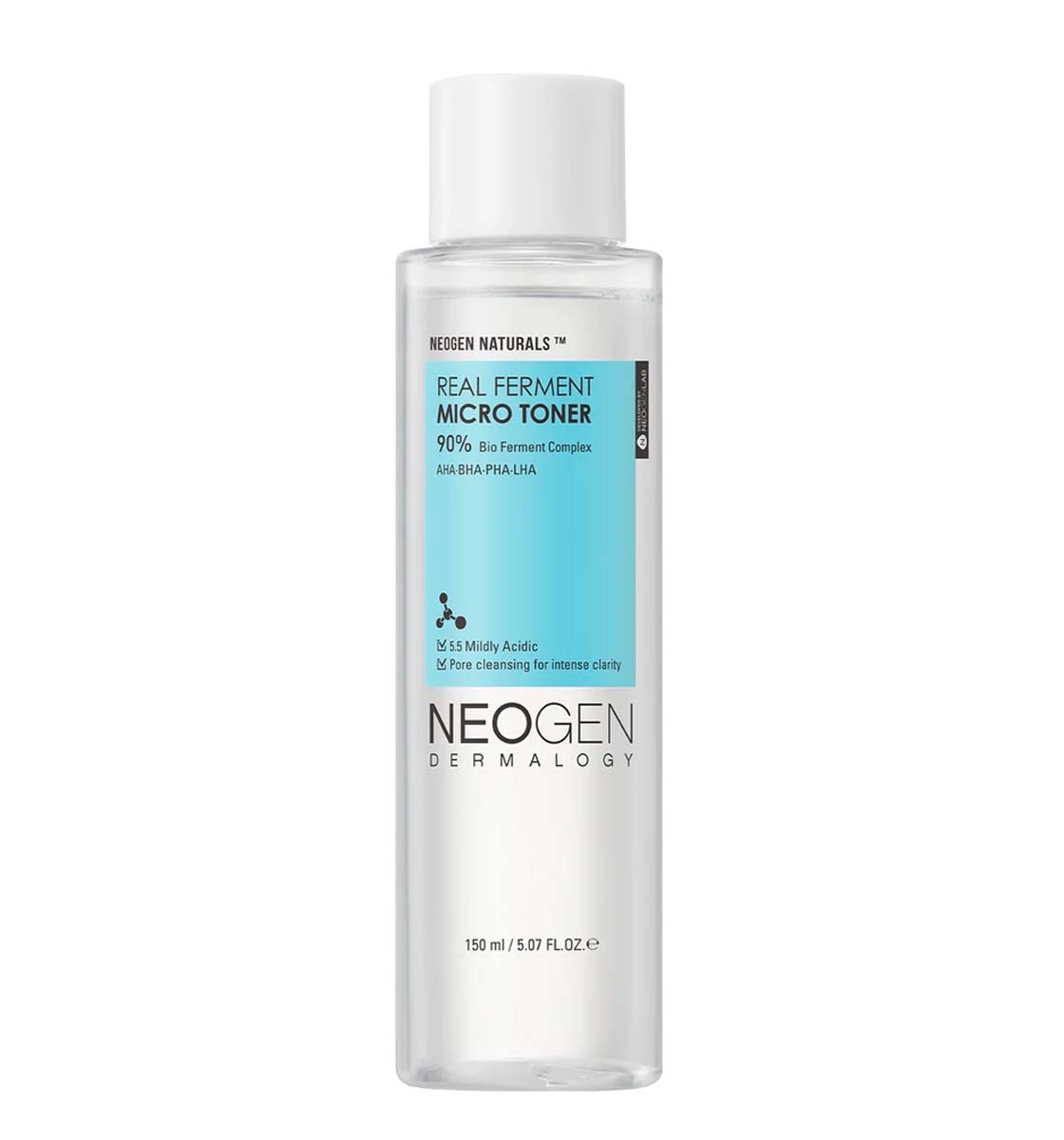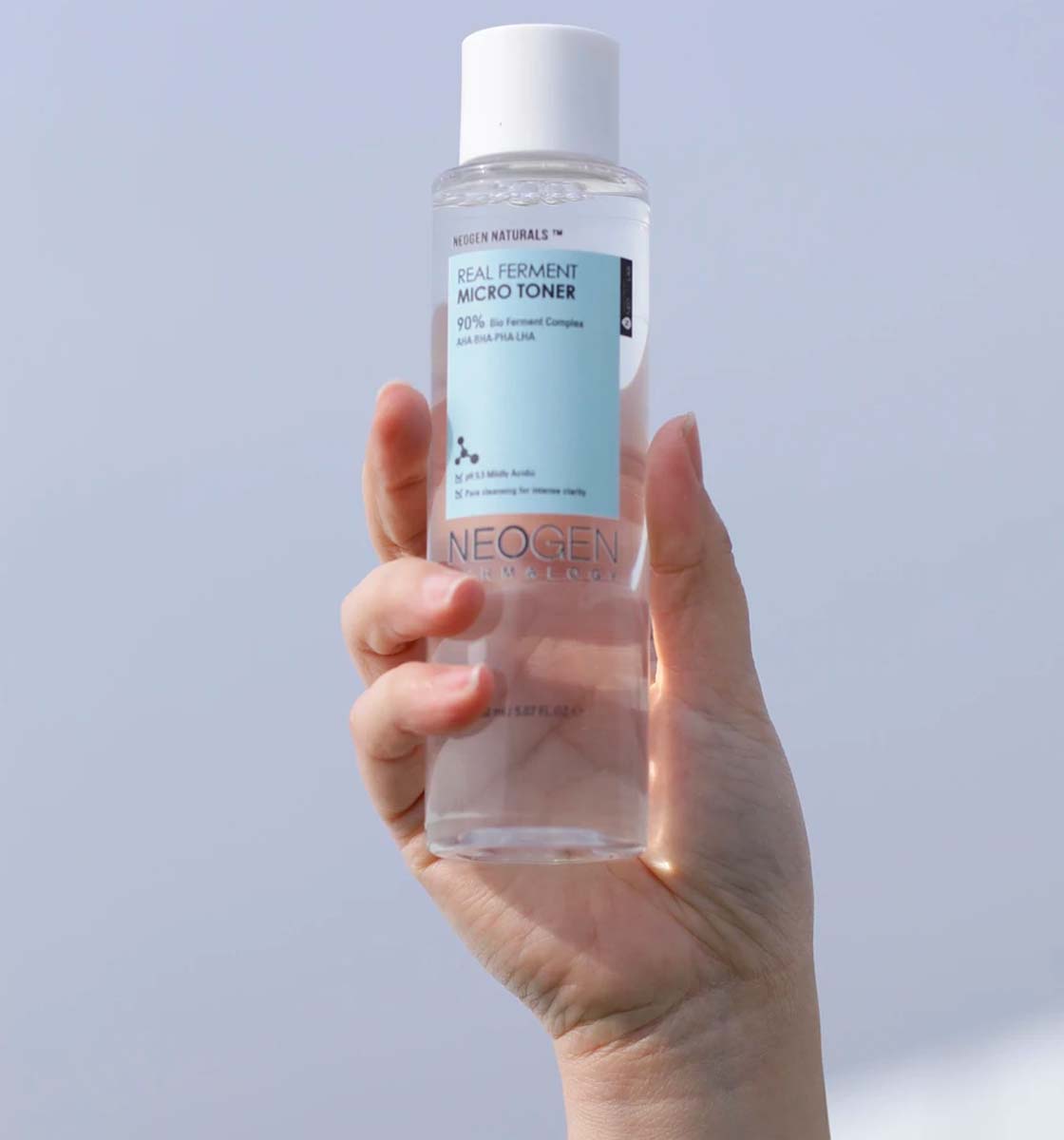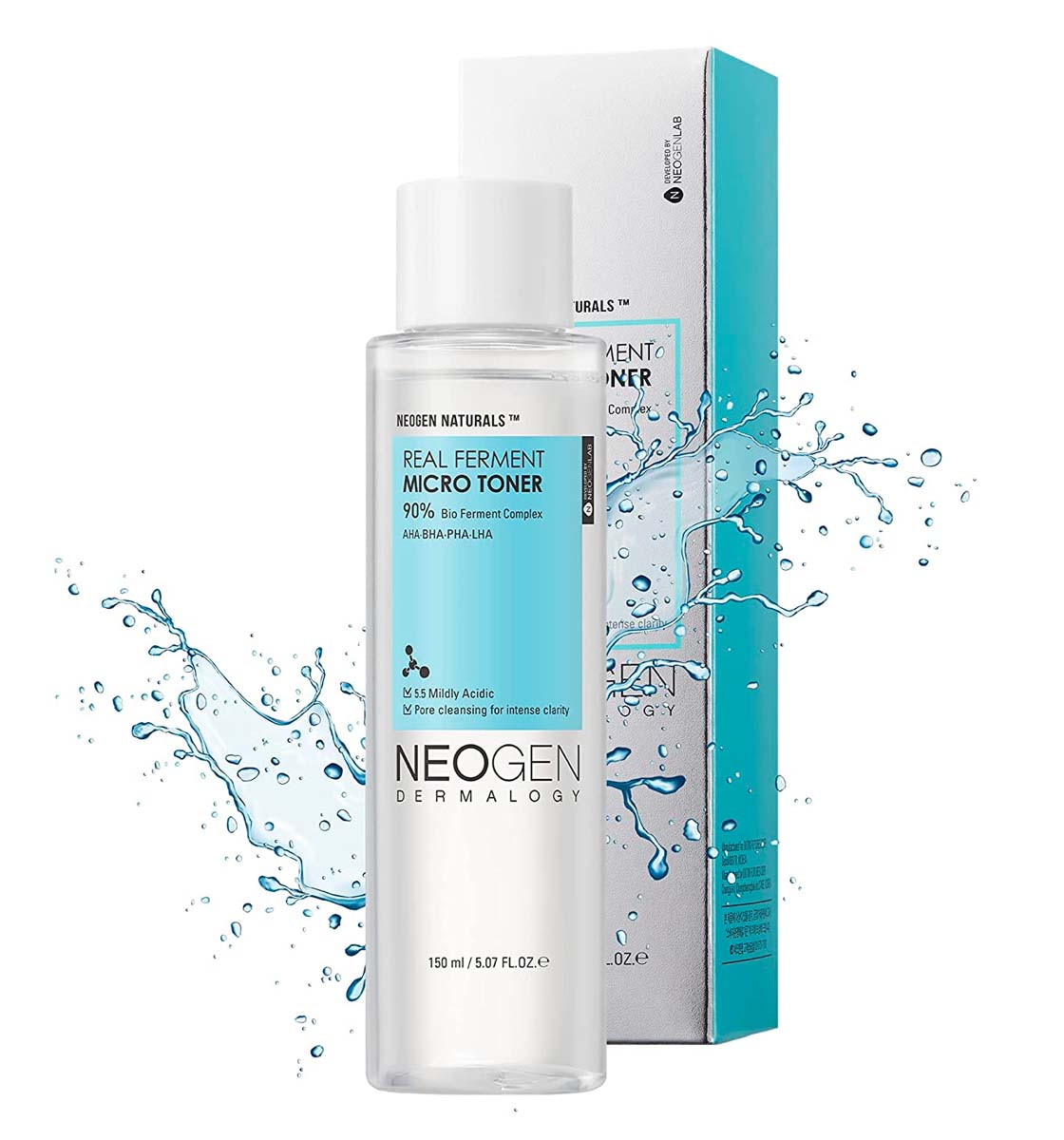 Neogen real ferment micro TONER
I bought this by mistake. I'd had a sample of the essence version and really enjoyed it, so I decided to buy the full size. I didn't read the name properly and I bought the toner. But I'm not disappointed, as I do like aha type toners. This feels very gentle, doesn't sting or leave the skin dry or irritated. I like knowing it still has the fermented ingredients as well. So it turned out to be a good product. Using retinal products I've noticed it's hard to fit in my acids, and my skin doesn't tolerate them as well, but with this toner, I haven't had any issues with it.