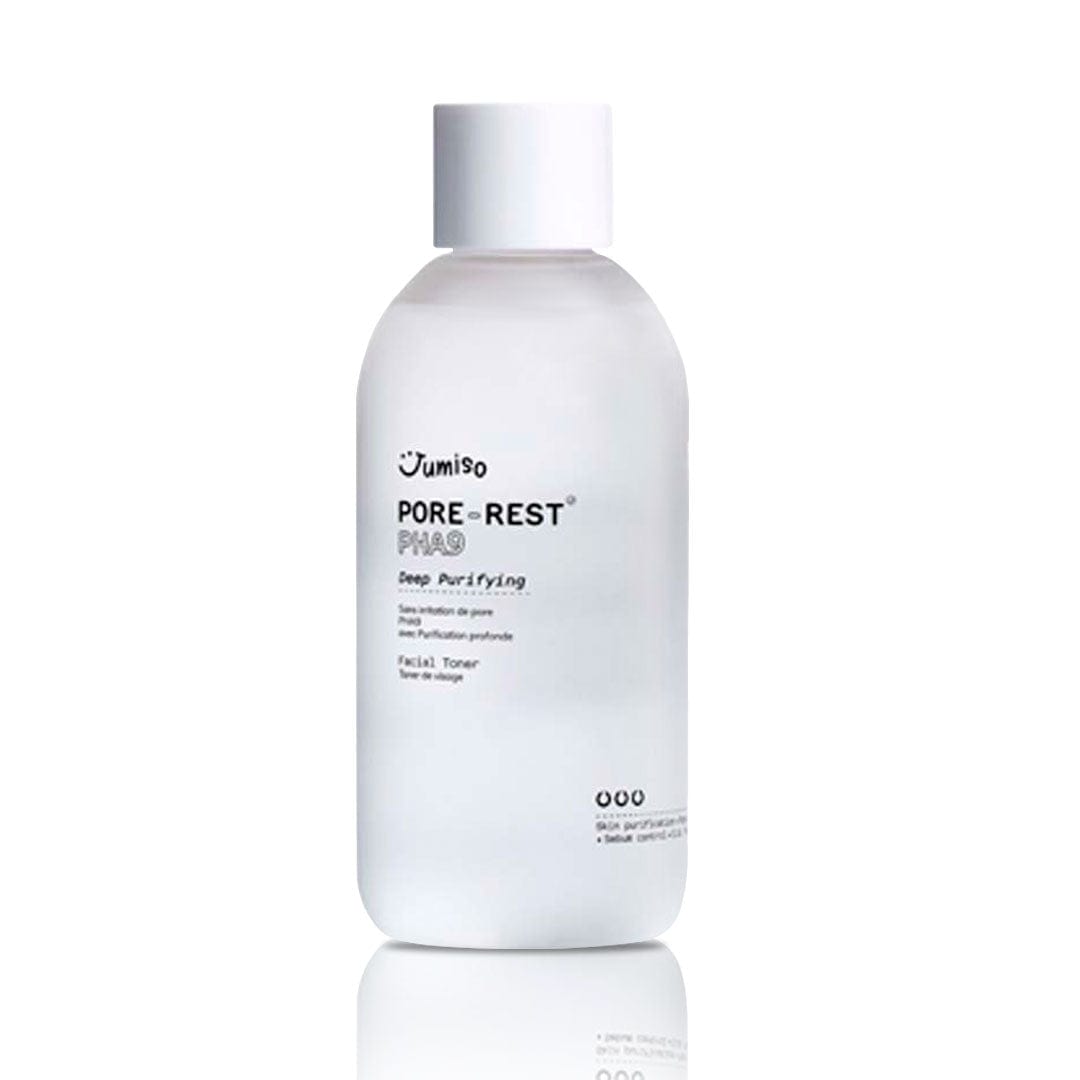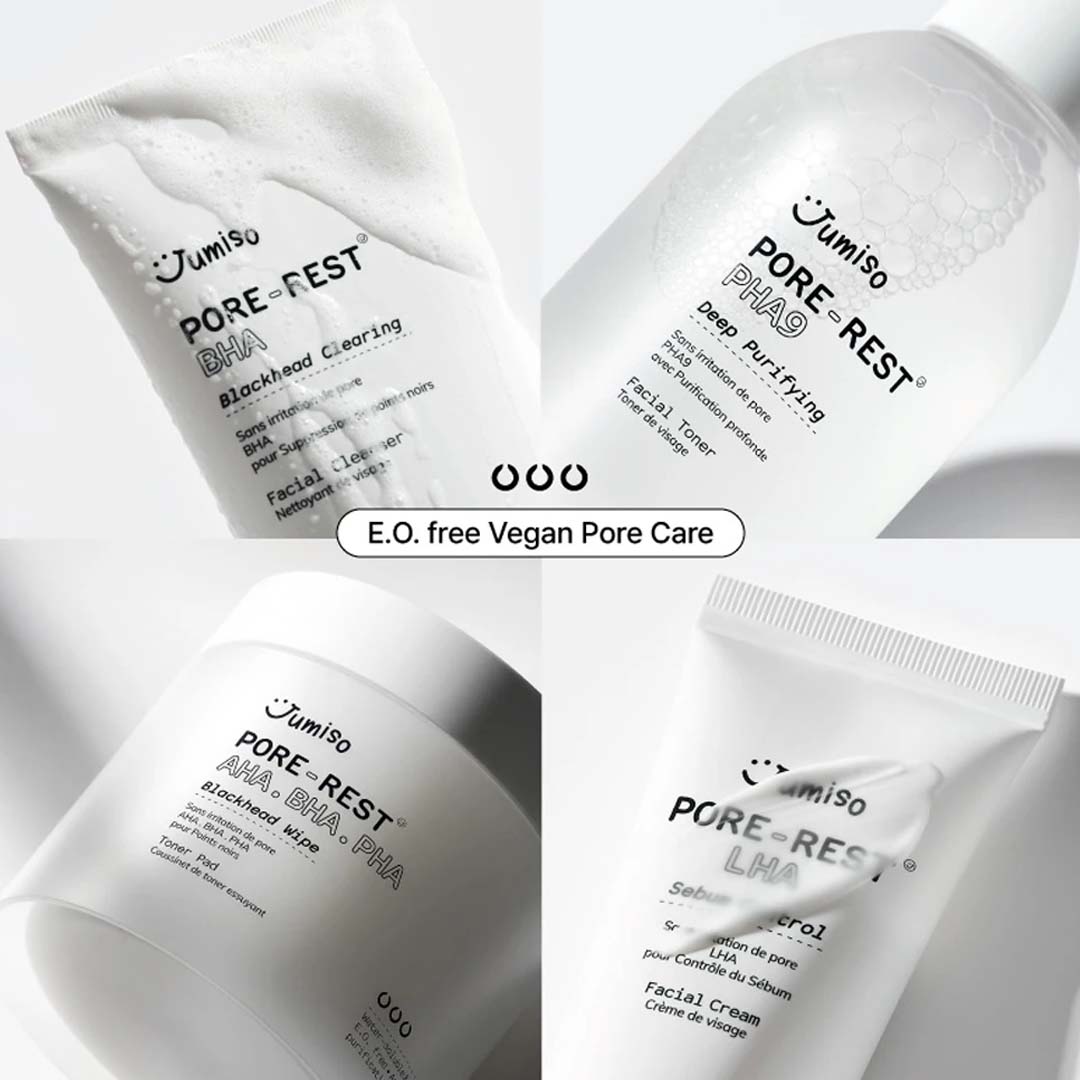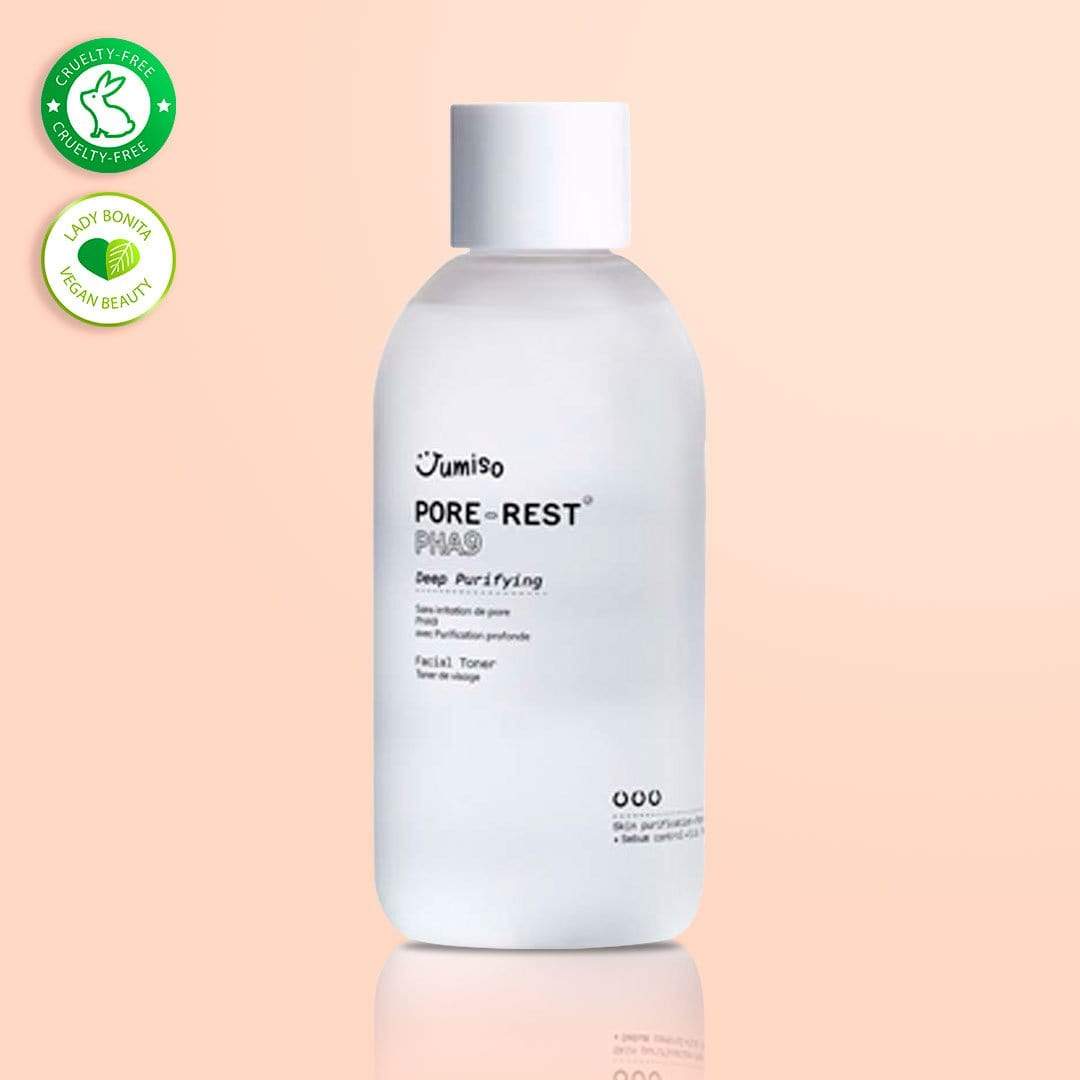 Jumiso. Pore-Rest PHA 9 Deep Purifying Facial Toner 250ml
A multitasking formula toner with 9% PHA (Gluconolactone) deep-clean clogged pores and exfoliates, dulling dead skin cells on the skin surface.
Perfect for all skin types and susceptible skin, this toner purifies and refreshes while promoting overall radiance. 
Pore cleansing toner for sensitive skin! 
Keep skin unbothered with acne-causing bacteria without any tightness or stripping effects.
Exfoliating pores while minimizing irritation

Moisturizing toner for dull skin

Celan excessive sebum secretion

Clearing blackheads and clogged pores 

Skin turnover
What Makes It Special?
EO-free & Vegan

9% PHA (Gluconolactone)

Perfect for sensitive, dry, and oily skin

Fragrance-Free
HOW TO USE

After cleansing, put an appropriate amount of toner on the hand or the cotton pad and smoothly wipe your skin.
Important: Ingredients subject to change at manufacturer's discretion. For the most complete and up-to-date list of ingredients, please refer to product packaging.

Water, Gluconolactone, Propanediol, 1,2-Hexanediol, Dipropylene Glycol, Sodium Hydroxide, Sodium Hyal-uronate, Althaea Rosea Flower Extract, Enantia Chlo-rantha Bark Extract, Panthenol, Polyglyceryl-10 Lau-rate, Butylene Glycol, Ethylhexylglycerin, Sodium PCA, Pentylene Glycol, Beta-Glucan, Caprylyl Glycol, Olea-nolic Acid, Tocopherol, Caprylic/Capric Triglyceride, Pistacia Lentiscus (Mastic) Gum, Hydrogenated Leci-thin, Phenethyl AlcoholDTA
All packages from Lady Bonita are shipped from Point Chevalier, Auckland, New Zealand.

PROCESS TIME:

Products in stock: We process and ship out all orders Monday through Friday, not including holidays. Orders with standard shipping will usually be fulfilled and shipped the next business day (Monday through Friday, not including holidays).

Pre-orders: We ship them as soon they arrive to our warehouse. Please check the ETA (Estimated Time of Arrival) of each product.

DELIVERY TIME:

Once your order has shipped, you will receive a shipping confirmation email with your tracking information enclosed. Please check your inbox or spam.

Standard Shipping usually takes 1- 5 business days from the day it ships to arrive to its final destination. Delivery outside major towns and cities, including to and from rural or remote areas will take longer.

SHIPPING RATE: For rates, please check Shipping Rates.
Lady Bonita is an authorised retailer. Our products are 100% authentic and sourced directly from brands and authorized distributors.

Our team personally test every product that we curate.
Skincare and Makeup

For a positive experience with our products, follow these friendly reminders:

Read the label carefully, it contains important information, including precautions and a list of ingredients.
Read and follow Instructions on how to apply the product correctly, including the recommended amount and duration of effectiveness.
Patch Test for Your Skin. Unsure if a product is right for you? Conduct a patch test by applying a small amount to a skin area, like the underside of your wrist. If irritation occurs, or a rash develops, please avoid using the product.
Check Expiry Dates. Don't forget to check expiry dates. Some labels indicate how long a product lasts after opening or provide a best-before date.
Store Wisely. Follow the manufacturer's storage recommendations. If the label suggests keeping the product away from children or storing aerosol cans away from heat sources, take note.
Secure Packaging. After use, promptly store products, ensuring lids are tightly closed. Regularly check the packaging for leaks to maintain product integrity.

Your safety and satisfaction are our priorities. If you have any questions, feel free to reach out.
Choose options