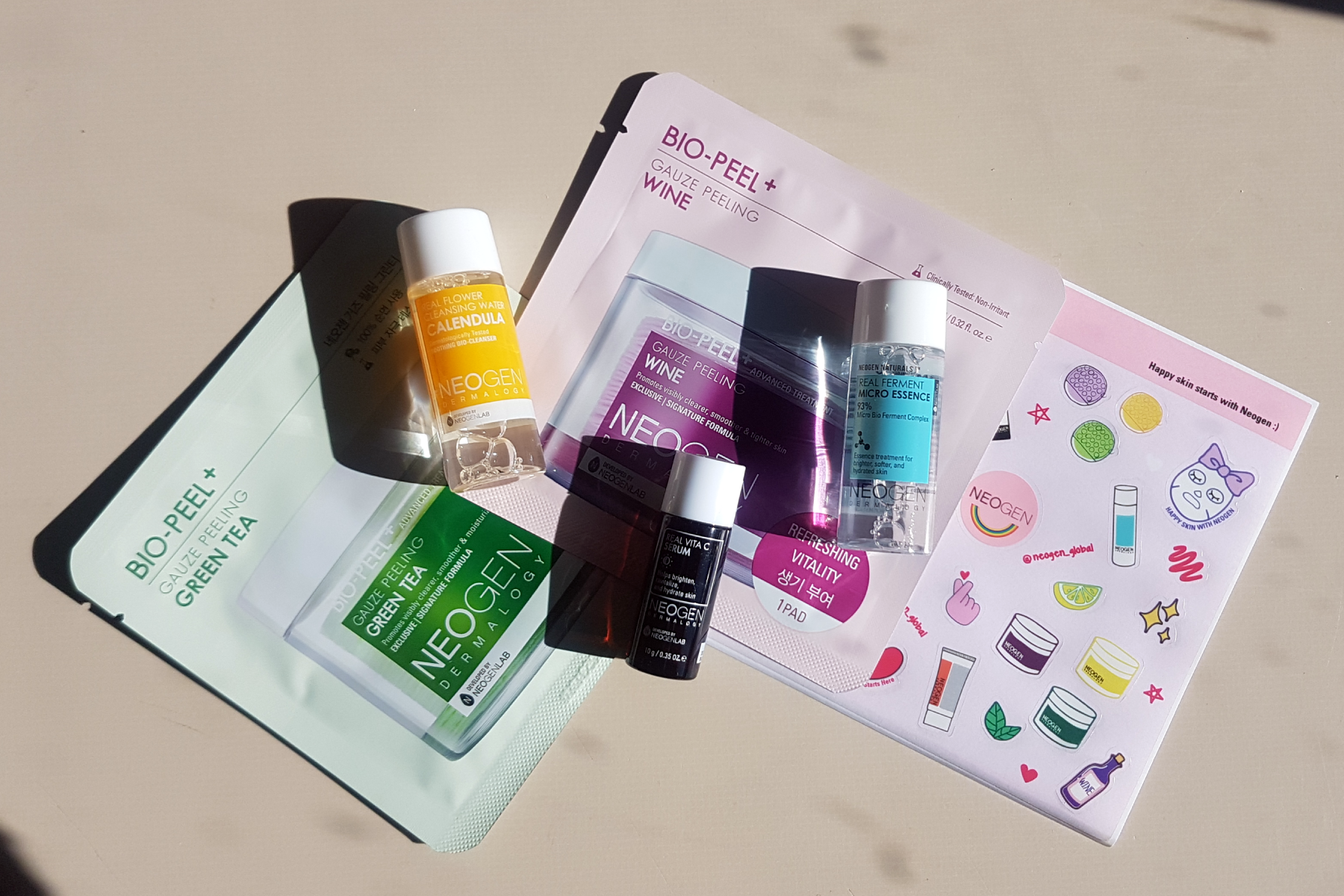 Product Review: Neogen. Happy Skin Starts Here Trial Kit
I am always excited to try out new products but by far trying Neogen. Happy Skin Starts Here Trial Kit has been the most exciting! The cute packaging, many products and stickers really drew my attention and I couldn't wait to see the results on my skin.
The Neogen. Happy Skin Starts Here Trial Kit comes with 5 of Neogen's best products; green tea bio-peel gauze, wine bio-peel gauze, real flower cleansing water, real ferment micro essence and real vita C serum. For only $25 that is a bargain for the amount and range of products you receive. The bio-peel gauze is an easy to use exfoliating pad which provides gentle but effective exfoliation of dead skin cells & impurities. The pure cotton gauze peeling pads will leave your skin looking smoother, brighter, tighter, and healthier. The wine bio-peel gauze is enriched with antioxidizing agents and the green tea bio-peel has smoothing properties to calm your skin. The real flower cleansing water calendula works to gently remove the build-up of unwanted dirt and impurities on the skin. The products are naturally derived which result in a non-irritating product. The real ferment micro essence works to hydrate and brightens the skin using 93% naturally fermented ingredients. Also, this product contains natural brighteners which result in supple and glowing skin. The last product in the Neogen. Happy Skin Starts Here Trial Kit is real vita C serum that contains 22% vitamin C. This product helps to even out the complexion of skin and brightens the overall appearance.

I really like Neogen. Happy Skin Starts Here Trial Kit because it allowed me to try out lots of different products. The packaging of all the products was very sleek and pleasing to the eye. Although this is a trail kit, I was impressed by the size of the samples which were included. I think that I can get a couple of weeks of use out of the samples provided. When I first applied all the products I was slightly worried about how many different serums were going on my face. I thought it could lead to a potential outbreak but the opposite happened. I woke up and my face was so smooth and had an amazing dewy look to it. I thought my skin looked extremely healthy and the few blemishes I had were reduced significantly. All the products had a lovely scent to them, especially the real flower cleansing water calendula. My favourite product in Neogen. Happy Skin Starts Here Trial Kit would be the bio-peel gauze. I loved the way it smelled and how it removed the dead skin off my face leaving it feeling so smooth. I would recommend Neogen. Happy Skin Starts Here Trial Kit especially for people who are looking for a good base of products to add to their skincare routine. My skin felt amazing even after one use of all these products. I am for sure going to be continuing to use all of them.