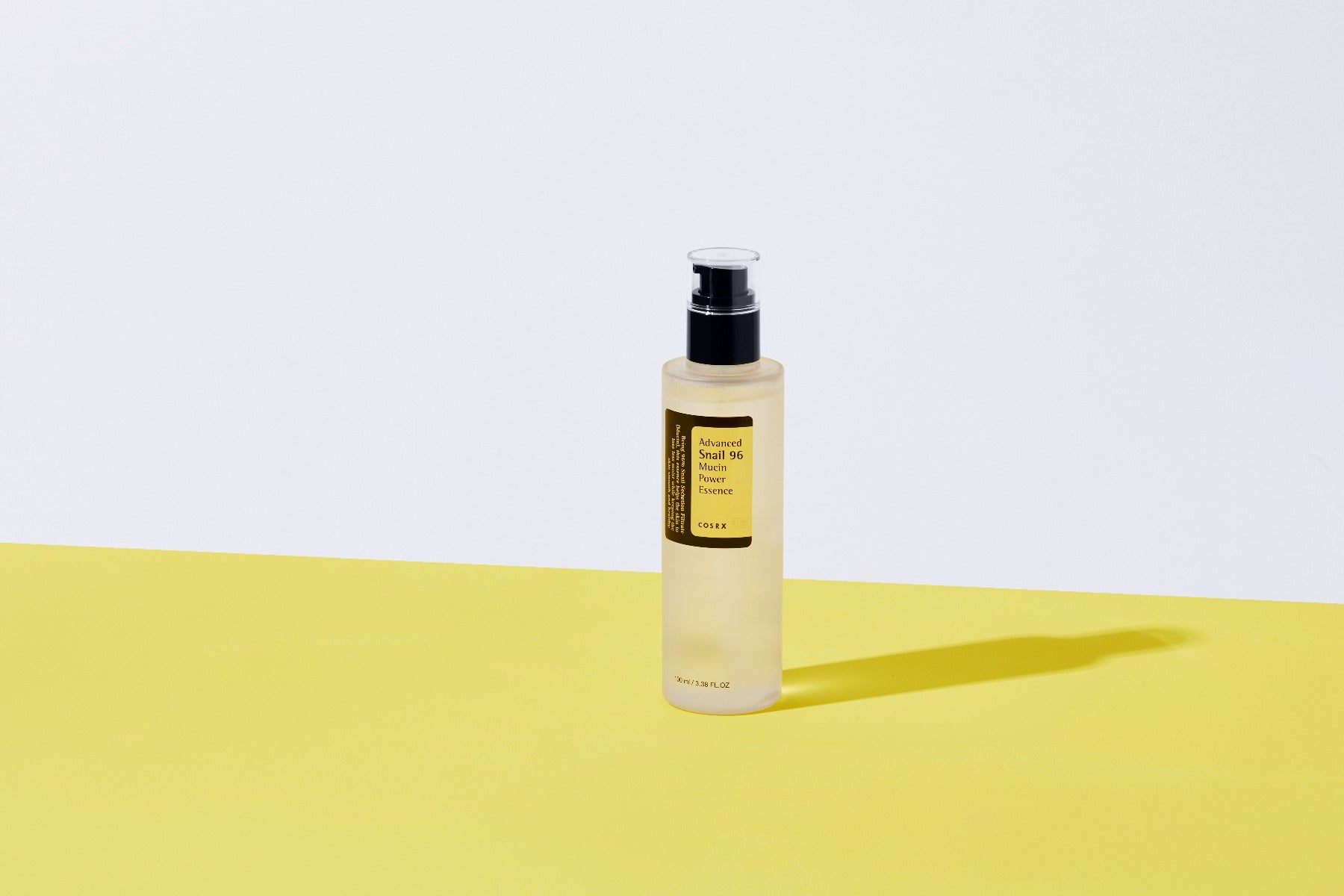 Product review: COSRX Advanced Snail 96 Mucin Power Essence
Snail mucin is one of the ingredients that has completely changed the game for skincare, at the beginning people were quite suspicious about applying such an 'exotic' ingredient to their skin but it is now loved everywhere because of it's great properties. 
I am not so different from everyone else and I'm just head over heels about the snail mucin magic and we are now going to check everything there is to know about the Advanced Snail 96 Mucin Power Essence by COSRX, so get your cup of tea and put on your investigation glasses because it's reading o'clock!
So my romance with snail mucin started at a very early age when I was about 15 and saw many advertisements about snail mucin on tv, they were quite bad and I was thinking it was just another one of those fads that come and go but one day I bought one of those creams with no hope for it and god I was hooked! I have it all, sensitive skin, dry skin, rosacea and at that time I had my fair share of acne for being a teenager so using that cream (even if it was not a very good one) really changed my mind about that ingredient and gave me a little bit of hope on the future of my terribly challenging skin. 
So after some years, some research and experimentation I can honestly say the Advanced Snail 96 Mucin Power Essence is the product me and my fellow snail mucin worshippers were waiting for, and I'm pretty sure you are going to want to add it to your personal skincare collection, so let me break it down for you and tell you why this essence is so awesome:
Photo: Cosrx
1. The amount of Mucin you actually get:
I hope snails don't get mad at us for hoarding their goods but this product has got 96% of snail secretion filtrate, also known as mucin, and that is just a lot of words for telling you that it has got a lot more mucin than I have ever experienced in other products, something that surprised me was how viscous the texture was and it really helped my skin, it gave it so much elasticity and made it really soft after using it for a couple of weeks. 
2. The ingredients never lie!
Whenever you are about to buy a beauty or skin product please please please check the ingredients, they can never hide what is right or what is wrong with the product you are about to get. Now I'm going to go ingredient by ingredient explaining you what they are used for, if this is too dense for you then just skip this paragraph and we'll meet again in the next one, in case you are a geek about skincare products like myself and need to know it all, you' re in for a treat, here we go!  
So this baby has snail secretion filtrate (mucin), so far so good; betaine, which mostly works as a humectant and anti-irritant in the making of cosmetics; butylene glycol, that adds moisture and conditions the skin; 1,2-hexanediol, which is an antibacterial cosmetic solvent; sodium hyaluronate and panthenol that helps your skin 'grab' the moisture and keep it there; Panthenol, which is a pro vitamin B agent that gets involved in the process of regenerating the skin; arginine, which is a skin conditioner used for anti-aging and anti-wrinkle purposes; Allantoin, that recovers the skin from wounds, blemishes and irritation; ethyl hexanediol, used as a solvent; sodium polyacrylate, which is a thickening agent that helps with the texture of the product; Carbomer, another thickening agent that helps to control the viscosity of the product and finally Phenoxyethanol, which is often used as a preservative in cosmetics. We did it! Now we know exactly what this product has and let me tell you it is a very good list of ingredients. 
3. No extra unnecessary things added.
I know we sometimes like skincare products with some fragrance on it but it is not something I personally favour, this cream is great because of that, it has no fragrance and no added coloring which is great because sometimes you get irritation from some added fragrances and colours and besides it is annoying to apply a cream and then not liking the way it smells so this is really cool and practical. 
Photo: Cosrx
4. It works for everyone!
I know we often hear that certain skin products work for everyone but this one really does, let's go skin type by skin type. This product is water based so I would really recommend it to people with oily skin and combination skin since it will not add extra oil to their face and give them that unflattering glossy look that worries people with oily face, and it's just perfect for dry skin (which is my type) because it really goes in and gives you a level of hydration you are just going to love, I struggle a lot with my dry skin, specially in winter and this product was a relief for me; if you happen to have won the genetic lottery and have normal skin this product will be just great with you, It's really good for sensitive skin as well since it has no colour and fragrances that could cause irritation on that delicate skin of yours. 
Final thoughts:
Something more that I have to say about this incredible product is that since it is water based it absorbs really easily and doesn't clog on your skin like some oil products do; the best moment to use it is right after your toner, you can use a moisturizing cream after it if you feel like it or eye cream as well, I use it twice a day, in the morning and before going to bed, and it has worked wonders. I like the fact that the container has that pump cap situation so that you don't have to touch the rest of the product like sometimes happens with creams that come in big containers: it feels so fresh when you apply it and the hydration is evident, it feels thick and rich to the touch. One last thing I wanted to say is that even though this products are usually created for women this particular product works well on the skin of a man, but consider that men's needs, when it comes to skincare, are quite different from ours, they tend to have gorgeous skin without doing so much about it, lucky them! 
I hope you find this review helpful and that you have a happy adventure while trying to get the best skin care products you can find, please comment if you have used this product, I would love to know how was your experience, hope you have a lovely day!
makeup
LET'S TALK ABOUT SKIN: SKIN TYPE
Hello beautiful people! Let's talk about skin. At some point in your life, you may have asked yourself: "Why this product making my skin irritated" or "This product is not working for me". Well, b...
Read more
101 skincare
First things first, all skins are not the same. There are specific differences and knowing your skin type is the first step to get you to Flawless Skin City! 
Read more